This update is a bit late because we got in late the last couple of nights after seeing fireworks.
On Sunday we spent the morning watching some sermons from Mars Hill Church in Seattle, pastored by Mark Driscoll.  I discovered the church several years back through their excellent online repository of video sermons.  Pastor Mark is an excellent speaker with good theology and who isn't afraid to tell it like it is.  He's got a series titled The Peasant Princess on Song of Solomon which is fantastic for married couples, and I'd say is right up there with the best dedicated marriage seminars in depth and relevance.  I highly recommend it for married couples to watch together, although it's not a bad series for singles, either.
After watching a couple messages from that series (along with some more Masterchef Australia…) we went on a relaxed walk around East Vail.  It's actually been getting pretty warm lately, so we didn't stay out too long.
For dinner we had noticed a sign by a restaurant/pub in Vail Village advertising Surf and Turf as well as King Crab for $20 (summer prices) and Yelp said the food was good, so we headed there for dinner.  The George definitely has a pub feel and lacks the classy feel of most Vail restaurants, but the food was excellent and a great price for what it was.  Teri got the King Crab plate which was a ton of food (4 large crab legs over a bed of roasted potatoes and green beans) and delicious.  I got the Surf and Turf (2 large crab legs, an 8oz sirloin over the same bed of veggies).  The steak was a perfect medium and everything was seasoned perfectly and tasty.  Although $20/entrée is more than we usually spend, it's pretty par for Vail and for crab legs is a great deal anywhere.  Don't go to The George for the ambience, but do go for the victuals.
After that, we headed to Avon, another mountain town West of Vail, for fireworks.  Supposedly the largest fireworks show in the Rockies, it attracted a massive throng of people who were served by lots of carnival-type food and a skilled DJ spinning mashups of popular music from several decades.  The crowd was a bit overwhelming and it did attract a much more, um, diverse class of people (one of our neighbors, a tough-looking guy with tattoos on his head, got a phone call from a friend and subsequently told his wife/gf that "so-and-so got kicked out and left their bong with some chick, so I'm gonna go find it for them"), but the fireworks were great.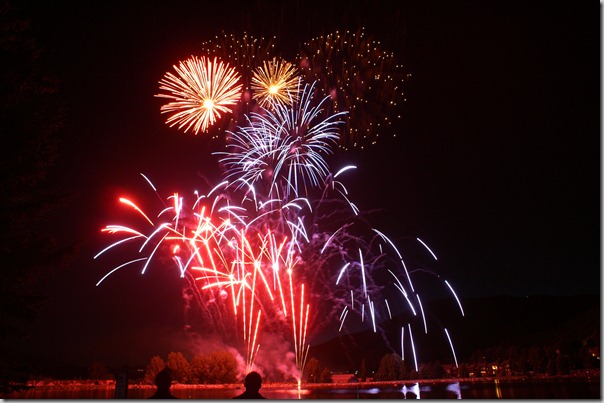 We were actually able to escape the area pretty quickly after the show ended and got home at a reasonable time, but were still really tired.
Monday (July 4th) was the day Vail had all their Independence Day activities.  We had hoped to see the parade in the morning, but slept in and decided not to rush there for it.  We did arrive in Vail with a packed lunch to see a free patriotic concert by the Dallas Symphony Orchestra.  We arrived a little before the gates opened in order to get one of the coveted shaded lawn spots, and aside from it being a really hot day, had a nice time munching and waiting for the show to start.
By the time it began, the place was packed with young and old, but unlike the previous night's festivities, the atmosphere was calm and relaxed.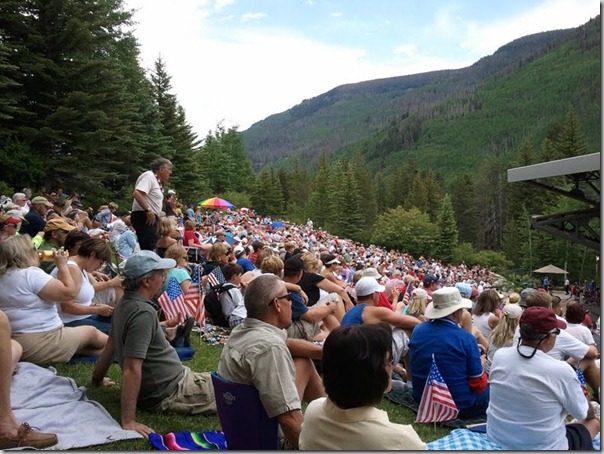 The show was excellent, and they played some patriotic standards as well as a number of jazzy Louis Armstrong pieces, complete with some excellent singing and trumpet-playing by Byron Stripling.  Some clouds rolled in with a tiny bit of drizzle which cooled everyone off, too.  A nice experience.
We headed to Lionshead for an early dinner of pizza at The Blue Moose, followed by gelato and sorbetto from Rimini's.  The pizza wasn't the best we've had, but it was good and they messed up part of our order, so we got a half-pizza for free which we brought home for another meal.  The gelato/sorbetto was pricey (no surprise) but delicious.  We left with Nutella, Blackberry and Strawberry, all of which were exquisite although the strawberry stole the show.
We headed back to the condo for some relaxation before the Vail fireworks.  For these we didn't have to arrive early, had no trouble with traffic on the way out, and were so close to the fireworks we could feel shrapnel falling on us on a few occasions.  It was awesome, and the finale featured lots of white "drizzle" which Teri loves.
Happy Birthday, America!