Today, our last in Vail before returning home tomorrow, was another quiet one without much planned.  In fact, we spent the whole day at the condo until the Darius Rucker concert at the Gerald Ford Amphitheater at 6.  We have watched a ridiculous amount of Masterchef Australia and are still only about halfway through the current season.  Wow.  We also watched some more Mars Hill sermons.
Teri and I aren't very familiar with Darius Rucker or Hootie and the Blowfish (his former band), but had bought the tickets when we first got here, thinking it'd be fun.  Unfortunately, it began raining right before the concert began so we found ourselves going more out of obligation to get our money's worth than anything.
Still, we stayed pretty dry and enjoyed the first half of the show, at which point we decided to head home rather than get any wetter.  Rucker sings well and the band was in good form, but again, as we aren't really fans it wasn't particularly engaging and we didn't regret leaving when we did.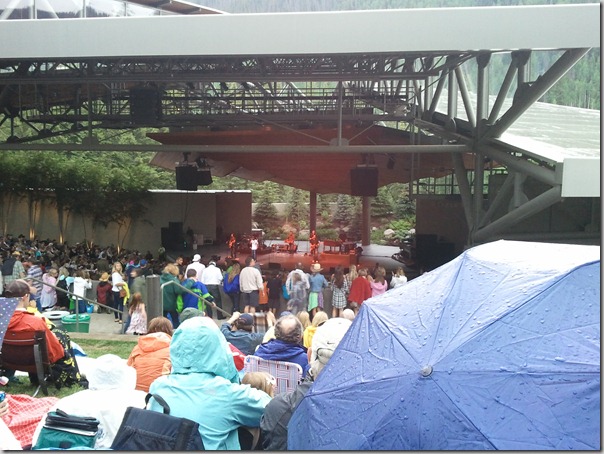 We are of course sad to be going back to the "real world" tomorrow, but we couldn't have had a better honeymoon.  It started out with some exciting experiences which we'll always remember, but then settled into a wonderful time of bonding, relaxing and enjoying nature, food and music.  We laughed a lot on this trip and left convinced as ever that we love being together and that life together is just easy.
With that, this will be my last honeymoon-related post unless we have more unexpected travel excitement tomorrow, but let's hope not
.