As I mentioned in my last post, my wife and I have plans for growing a good amount of food in our Austin, TX backyard.  One of the things that bothers me most about new suburban neighborhoods is the general lack of mature trees and the "barren wasteland" look of the backyards.  So one of my first home improvement priorities after moving into my wife's house was to get some plants started back there.  The builder had planted a single (somewhat gnarly-looking) live oak, but other than that, it was just a lot of boring Bermuda.
I love a nicely landscaped backyard.  I have no interest in sitting on the back patio to look out on some dead grass surrounded by a privacy fence, but an interesting arrangement of plant life can make it far more visually interesting, relaxing, and even cooler in temperature.  This isn't as important to my wife, but one thing we both agree on is that plants that produce food are both attractive and practical, so that's a common ground which has been my focus in planning the backyard.
I intend to blog about our yard's progress as time goes on, but first will be writing a series of posts about what I've done so far.  What follows is about the first stage: planting fruit trees.
Because trees take the longest to mature and are a great long-term investment in making the yard both inviting and valuable to future homebuyers, that's what we planted first.  After researching a variety of options for our area, we settled on a Harvester Peach and a Giant Fuyu Persimmon.  We considered citrus, too, but our climate gets a bit too cold for that to be a safe choice.  Peaches, though susceptible to a lot of pests and diseases, are nevertheless well-suited to our climate, and persimmons are beautiful ornamentally, low-maintenance, and produce unique fruit (we actually don't know what it'll taste like since I've never had this type of persimmon and the last one I ate was many years ago, but we're hopeful!).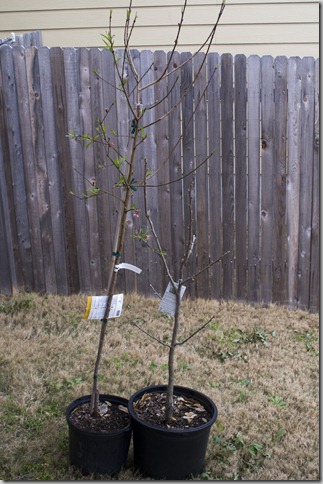 As soon as we picked what we wanted to plant, I got right on the project of planting them because it was already late in the planting season (March, 2011).  Putting them in the ground was quite a chore.  I'd never dug in Central Texas dirt before and was not prepared for the size and quantity of limestone to be found.  I ended up having to buy a rock bar, a long, heavy metal spear meant for prizing stones out of the ground.  After several other projects which have involved digging, it has proven to be indispensible.

Rock bar and some of the larger rocks I dug up.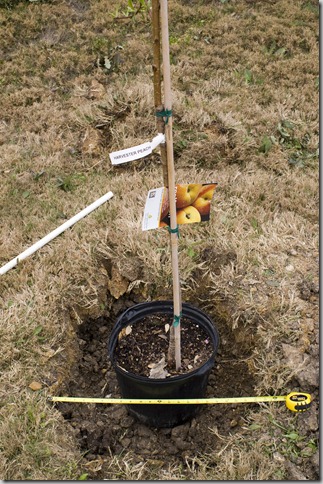 Harvester Peach, March 13, 2011.

Giant Fuyu Persimmon: March 13, 2011.
After planting the trees, I watered them with a hose roughly once a week, and in a few weeks they were sporting a bunch of healthy-looking leaves.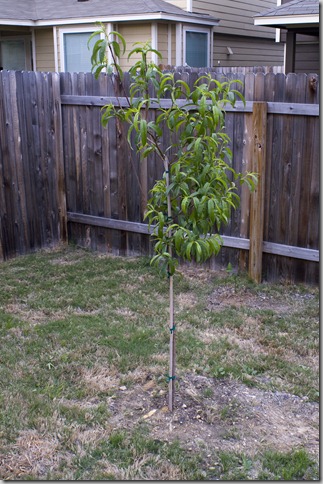 Harvester Peach: April 3, 2011.

Giant Fuyu Persimmon: April 3, 2011.
That's all for this post, future ones will show the progression of the trees along with the rest of the backyard plantings.