So this is an overdue post as I did this project back in the Fall, but I wanted to wait until it was in its final location before posting so I could show it "in action."
I've long been a believer that a Home Theater PC (HTPC) is the best and most economical way to build a home theater.  It's not for everyone as it takes some know-how and patience to set up, and lacks a simple, cohesive interface that anyone can get the hang of.  But for sheer capability, nothing else comes close, at least in the sub-$1000 range.  What else can play/record/pause/schedule live TV, drive a surround sound system, push 1080p video, play blu-ray video, networked and locally saved music and video, access any internet video (including Hulu without paying for Hulu Plus), and run a regular browser if you want?  Nothing, that's what.
Now because I wanted to be able to support HD video, particularly blu-ray, the machine I used for an HTPC in college (which was my old PC that I replaced when I built my current quad-core desktop) wasn't going to cut it.  So that left me with a dilemma.  Would I upgrade my existing desktop and use the old parts for the HTPC, or build the HTPC from scratch using cheaper parts?  The former would satisfy my nerdy desires for having another cutting-edge beast of a PC, but as I really thought about it, I just couldn't justify it.  My current PC is still powerful enough to do everything I want to do, including edit HD video, and a quad core is really overkill for an HTPC.  So I did something I've never done before: I built a PC that wasn't more powerful than any PC I've ever owned!  Not an easy decision, but in retrospect I think it was the wisest.
So here's what I settled on:
AMD Athlon II X2 255 Regor 3.1GHz 65W Dual-Core Processor
BIOSTAR TA790GXB3 Motherboard
4GB G.SKILL Ripjaws DDR3 1333 SDRAM
Scythe SCSK-1100 100mm CPU Heatsink
MSI NX8600GTS nVidia Geforce video card (originally bought for my main PC, but since upgraded)
3 1TB HDDs in RAID5 configuration, totaling 2TB of redundant storage with fast read times
Blu-Ray ROM Drive (originally in my PC)
Razer Barracuda AC-1 Audio Card (moved from my PC, now just using the embedded audio on my PC)
ATI TV Wonder HDTV Tuner (bought cheap from Woot.com a while back)
Antec 380W Earthwatts PSU
Lenovo Mini Wireless Keyboard/Mouse (Slickdeal!)
Microsoft Windows Media Center IR remote (same one I used on my old HTPC)
nMEDIAPC Red Wood ATX HTPC Case
That last item was honestly the most exciting.  As a recently married man, having some industrial-looking metal box with a bunch of lights on it wasn't gonna fly in our living room, so I was thrilled when I found that case.  Not only does it go with the wood-tones in our living room, but it was affordable and looked AWESOME!
I've got to give major thanks to my Dad for buying most of the above items as a combined Christmas/Birthday gift.  Thanks Dad!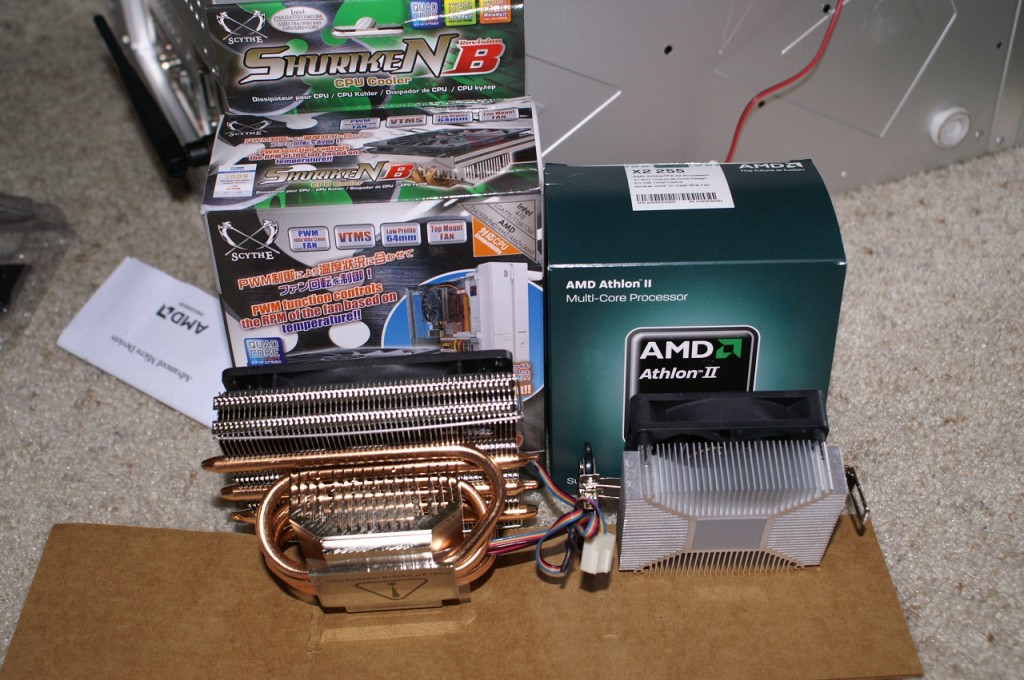 With the parts purchased, it was time to start assembling.  Shopping and researching the parts is fun, but building a PC is a blast.
Arctic Silver applied to the CPU heatspreader.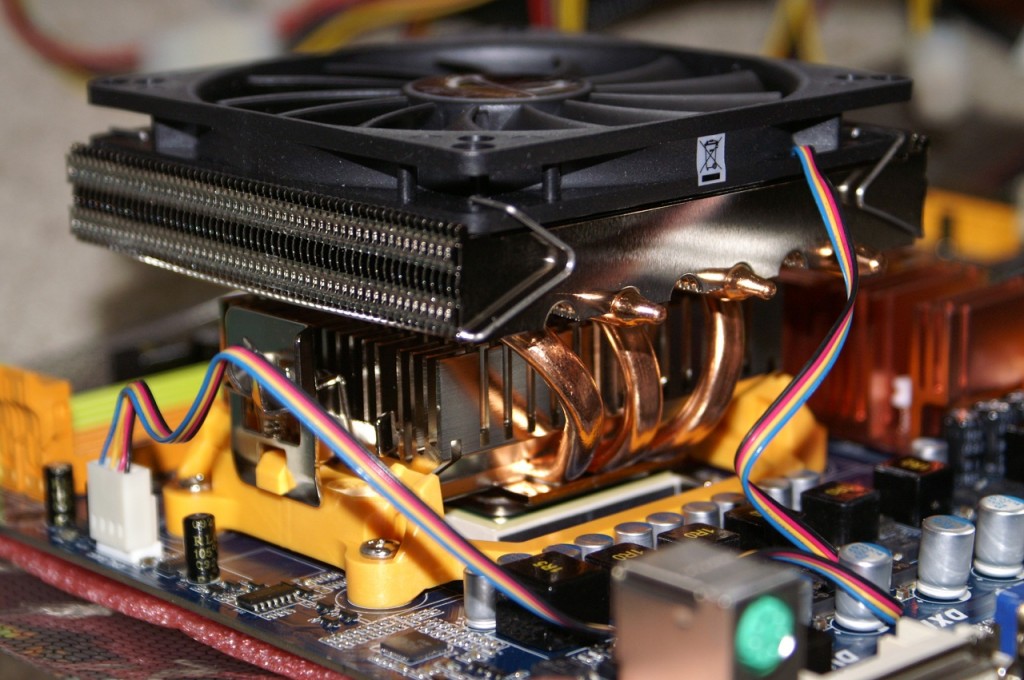 Such a beautiful sight.  Love those copper heatpipes!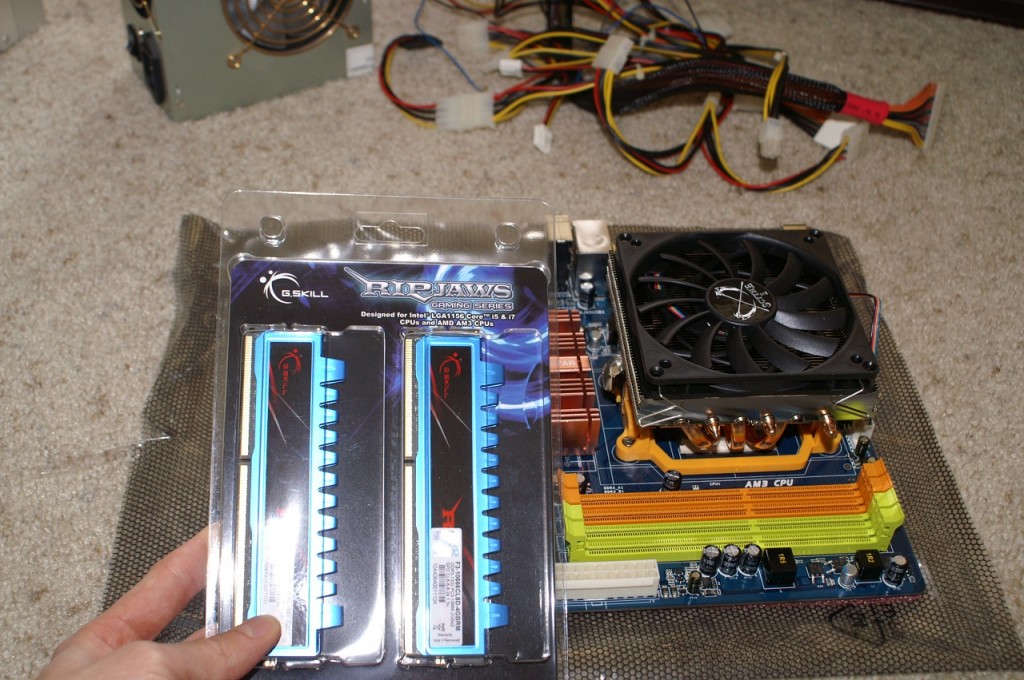 RAM!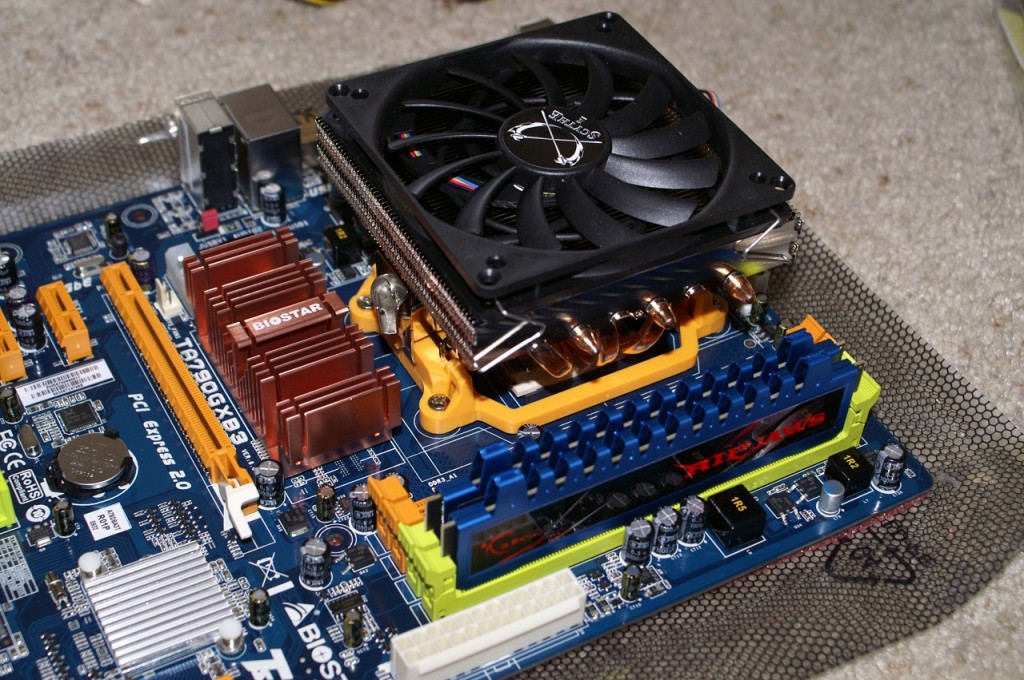 Memory installed, looking vicious.
Motherboard in the case!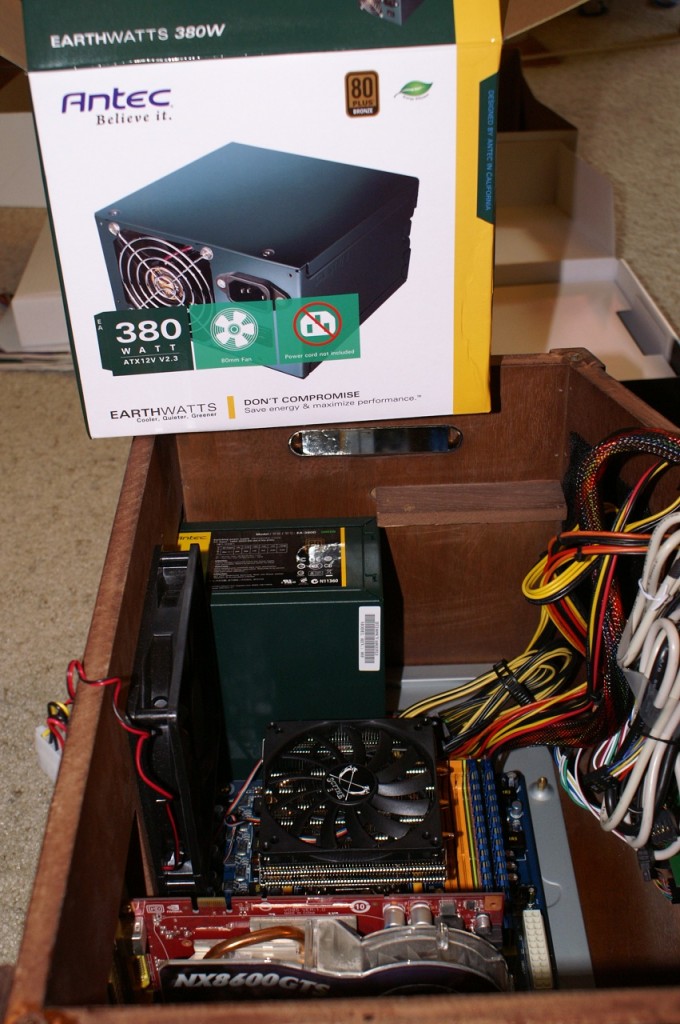 POWA!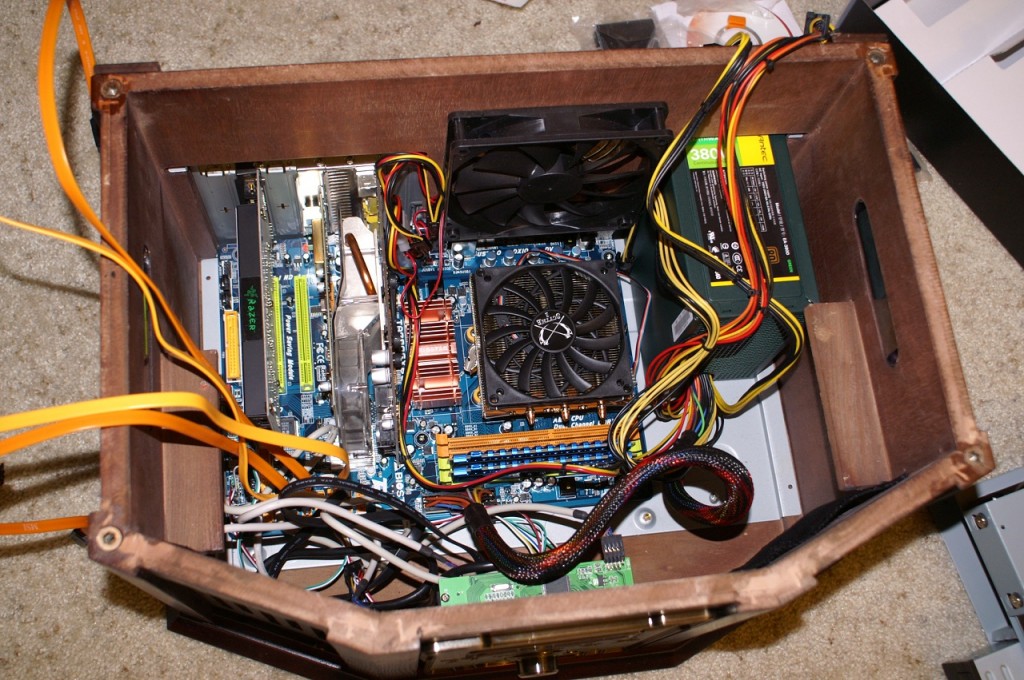 Other components installed (video, TV and sound cards).
3TB physical storage, 2TB actual (after RAID).  Awesome.  Also, all ready to push high-quality gorgeous 1080p blu-ray video!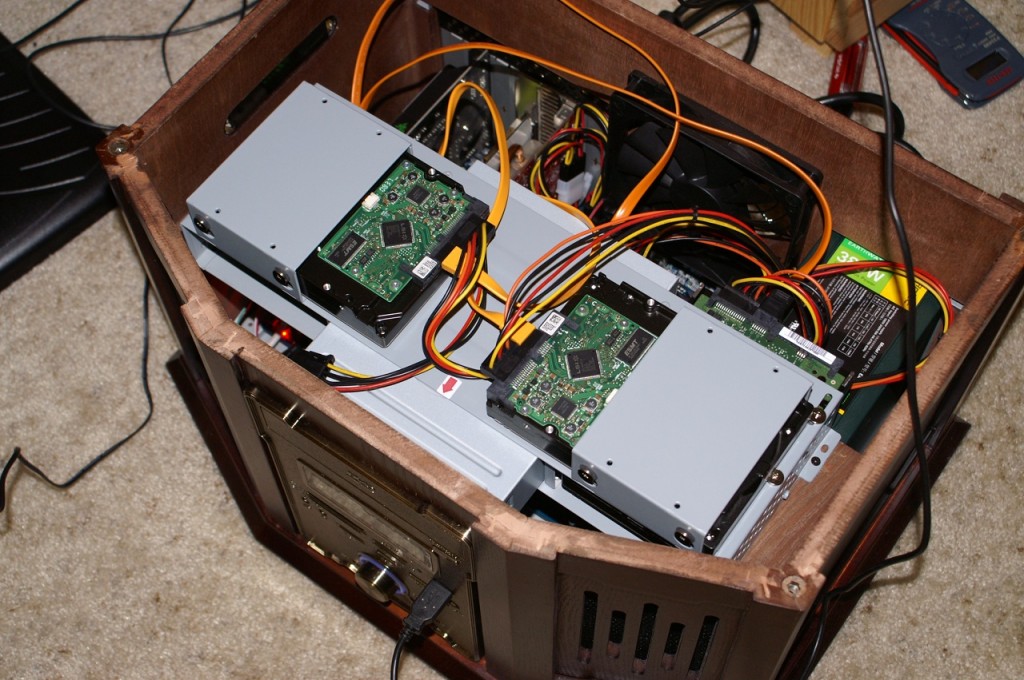 Optical and disk drives installed, all done!
Everything put together, it was time to install the OS.  While Linux has been used successfully for HTPC builds before, I went with Windows because a) it's what I'm most familiar with, b) it has better hardware support and I didn't want to limit myself to components that had Linux support, c) blu-ray playback is much easier on Windows (although unfortunately still requires 3rd party software), and d) Windows Media Center is the best PC software for live TV watching and recording thanks in large part to the free programming guide that's included.
So which flavor of Windows?  I love most things about Windows 7, so normally that'd be the easy choice.  However, I don't have any extra licenses which means I'd have to pay more, and the cheap HD TV card I bought unfortunately has crappy Windows 7 support (this is my second negative experience with an ATI TV card…I won't be buying another).  So believe it or not, I went with Vista because I had some unused licenses and the TV card works much better in that OS.  Also Vista has built-in support for motion desktop backgrounds, which is a nice touch on a big screen TV.
Setting up the software for an HTPC is a bit of a chore.  Windows Media Center is built in so that's easy to set up, but it took some tweaking to get the power management settings correct (particularly getting it to sleep without waking up in the middle of the night and without running fans, etc.), get the blu-ray working seamlessly with WMC (went with ArcSoft TotalMedia Theatre 3 Platinum because in addition to having full support for all the latest blu-ray audio and video codecs, it also integrates with WMC), and work through a few other kinks.  I've now got it working really well.  Putting it to sleep stays in standby with no fans or hdds running until I turn it back on, and it wakes up in seconds when I do wake it.  I've got WMC for live TV watching and blu-ray, XBMC for local video and music playback and audio visualization, Rhapsody for streaming songs I don't already own, Hulu Desktop for a remote-friendly experience and of course the browser for anything else, including Netflix Streaming.  It does require a mouse for a lot of things, but it's really not bad.  And I've got the DPI cranked up so text and buttons are a more appropriate size for a 55″ screen.
Here it is in action (running XBMC and driving a 55″ 1080p Toshiba Regza locally-dimmed LED LCD TV and Logitech THX Z-5300e 280W 5.1 Speakers)!